Jack is waiting for his Packleader in the car
when he sees Garage Dog…
There are Bad Dogs too. OH NO, there is Garage Dog! GRRRRR ROWF, ROOF, ARRROOOF, GRRR, RUFF RUOWF…. I hate Garage Dog…
Garage Dog yips back. He stands up on his lead and goes, Yip yip yarp, riifff, yip! I'm very Fierce, I can tear out your tum and your throat and your tail-end, yip yip!
He has an old ape dog Pack Lady on his lead. She is the garage apedog's Pack Lady. She is trying to pull Garage Dog away.
GRRROWF, GRRROWF. I'll get you, Garage Dog…
I jump into the front bit of the car to go on barking. Put my paws and tummy on the round bit so I'm TALLER.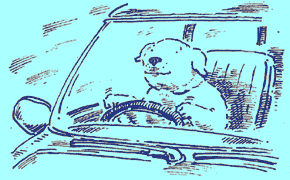 BEEEEEEP!
What?
BEEEEP!
OH WOW! The car barked with me! The car hates Garage Dog too! We are a Pack!
ARFFF ARFF BEEEP ARRFF ARRRFFF ARROOOF! BEEEP!
BEEP! BEEEP! Very loud bark. Very Good.
See, Bad Garage Dog, the car is in my Pack too. It is barking at you too, ARRRFF!
Garage Dog does a Wet Message on the car's wheel, hiding Suki's friendly one.
OH NO! HOW DISRESPECTFUL. You are BAD BAD BAD! I jump to the back again, over the interesting sticks.
Garage Dog stands on his back legs (but he's still pretty small) and he goes, Yip yip, yarp, I'll get you, I'll bite you and make you into meat, yip yip!
I jump in the front again, try to get the Bad Garage Dog. My paw catches on one of the interesting sticks, ouch, hurt, pull pull, bit, pull…
Something goes clunk under the floor.
ARROOOF ARROFFF ARRROOOOF! I'll get my Pack Lady Petra, who is very Fierce and has her own den next to mine, and we'll come and make you into meat, BAD BAD BAD! GRROOOF BAD!..... ARRROOOFFF!
What? What's happening?
Oh, how FUNNY! The car isn't going vrrrooom chuchchug like it usually does when it wakes up. It sounds still asleep. But the light trees are moving again.
And all the big dens are moving.
OH WOW! I'm making everything go. The whole world is moving for ME!
OH WOW WOW WOW! THIS IS GREAT!
**************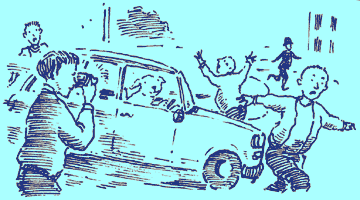 Look at me, Garage Dog, pretty soon I'll bash you with my car and make you into squashed gluey meat like a hedgehog… ARRRF ARRF that'll teach Garage Dog to come near my car!
ARROOF, ARF, WOW WOW WOW!
I there, look at me, Suki, I am Very Thick, I am driving a car! This is greeeeat! I am like my Packleader now! Oh wow wow wow! Bye now!
I know how to drive, it's easy. You put your paws on the round thing…
BEEEP! BEEEEEP! WHEEE ARRF ARRRF WOOF ARRROOOF!
GRROOOFFF! ROOOOOOFFF! Very windy again outside…
(to find out what happens next…. Buy JACK AND REBEL the POLICE DOG!)