HI THERE, HOW NICE TO SMELL YOU,
OH GOOD, I LIKE YOU TOO,
CAN I SMELL YOUR....?

Oh. Sorry.

I am Jack, old-fashioned yellow Labrador.
I am very very Thick. Thick means Good.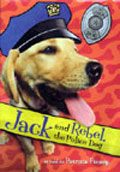 I have a new book called
"Jack and Rebel the Police Dog "
all about Me and My Pack and my friend Rebel.
It's now available in all good bookshops.
Look! You can do all this stuff!
GO WALKIES round my Den!
I LOVE WALKIES!
WALKIES,
PLEASE, NOW, PLEASE, YES?
Oh.